Insta Painters Revive the art of Landscapes
Landscape painting is seen by some in art circles as an old-fashioned form that has barely evolved in 100 years.
While city galleries have always found it a dependable source of income, they now say that the landscape is having a renaissance, with sell-out shows. Artists such as Andrew Gifford, Daisy Sims-Hilditch and Max Denison-Pender have found that their depictions of wilderness are appealing to a new generation of collectors — who use Instagram to discover art.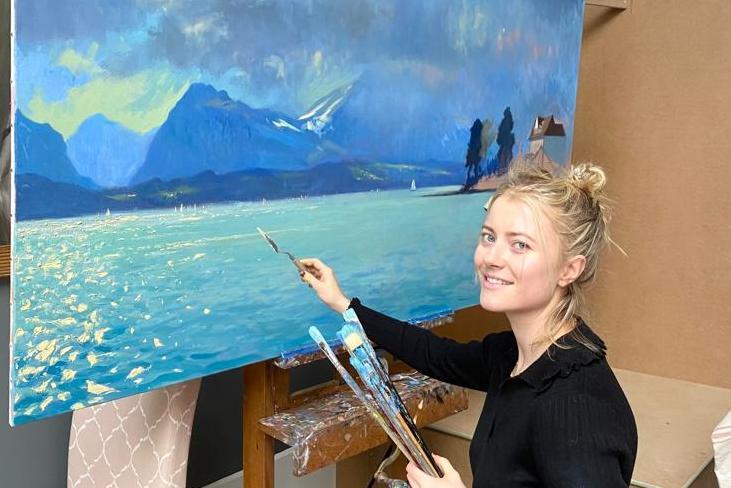 John Martin, who owns a gallery in Mayfair, said that the requirement to spend more time at home over the past two years had changed the mindsets of collectors and artists.
"I thought: that's it. It would be awful," he said, but instead lockdowns proved to be a "trigger" for collectors obliged to stare at their walls.
"But that's just the demand side," he explained. "Artists were outside more. They were more engaged and doing more interesting things."
He cited Andrew Gifford, 50, who had a sell-out show in December and whose landscape, Hoar Frost, sold this month for £40,000 at Sotheby's.
"He spent lockdown painting trees, but not traditional trees. He was looking at scrubby hawthorns and neglected corners of woods. Artists are trying to think about landscapes in a modern way, just as Constable did in the 1800s," Martin said. Instagram, where Gifford has 10,000 followers, had created a network of artists and collectors that made buyers feel a connection with the work, he said.
Sims-Hilditch, who sold 65 paintings at her show at the Portland Gallery in London, credited Instagram with finding global buyers.
Max Denison-Pender sold 27 paintings at the Richard Green gallery in Mayfair and declared that landscape was "hot". Rollo Uloth, of the Portland Gallery, said people wanted a way to "a happy place" — "the great outdoors".